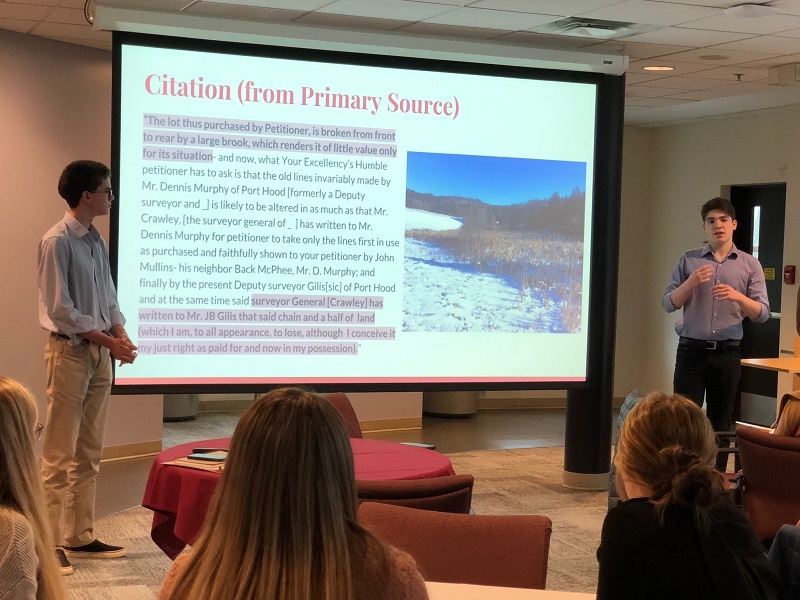 A group of Mabou high school students have made some intriguing findings about their ancestors and their area, through the Saint Mary's Emerging Researcher Program.
Thirteen students from Dalbrae Academy came to Saint Mary's on Monday to present the results of their original humanities research into Cape Breton land petitions dating back to 1787. The topics they covered included Scottish migration, Indigenous dispossession from lands, women in commerce, and land disputes of the Cape Breton Gaels.
"It was an amazing opportunity, just to have that knowledge of primary and secondary sources, and using the Archives," said Rhylee Hart, who plans to attend Saint Mary's this fall to study forensic sciences.
Her classmate Cari Rouse agreed: "It really helped me to understand what to expect when going to university next year. And learning to find reliable sources, that's super valuable. That's probably what I'm going to take most from this project."
This was the third annual instalment of the program, developed by two SMU faculty members from Cape Breton: Dr. Karly Kehoe, Professor of History and Canada Research Chair in Atlantic Canada Communities; and Dr. Alexander MacLeod, Professor of Literature and Atlantic Canada Studies. The first two were done with students at Cape Breton Highlands Education Centre in Terre Noir, near Margaree Harbour.
Niall MacIntyre uncovered plenty of new information about his great great great great grandfather "John the Immigrant", patriarch of the first family of Rankins to move overseas from Lochaber, Scotland. His mother Joanne, a teacher, said the students' direct connection to their subject matter propelled them to delve more deeply into the work.
"These guys weren't getting any academic credit for this, it was completely extracurricular. So to see them pull this off is pretty impressive," she said.
For more details about the research projects, read the March 5 article in The Chronicle Herald, "Project brings local history home for students at Mabou school".
Submitted by Marla Cranston.