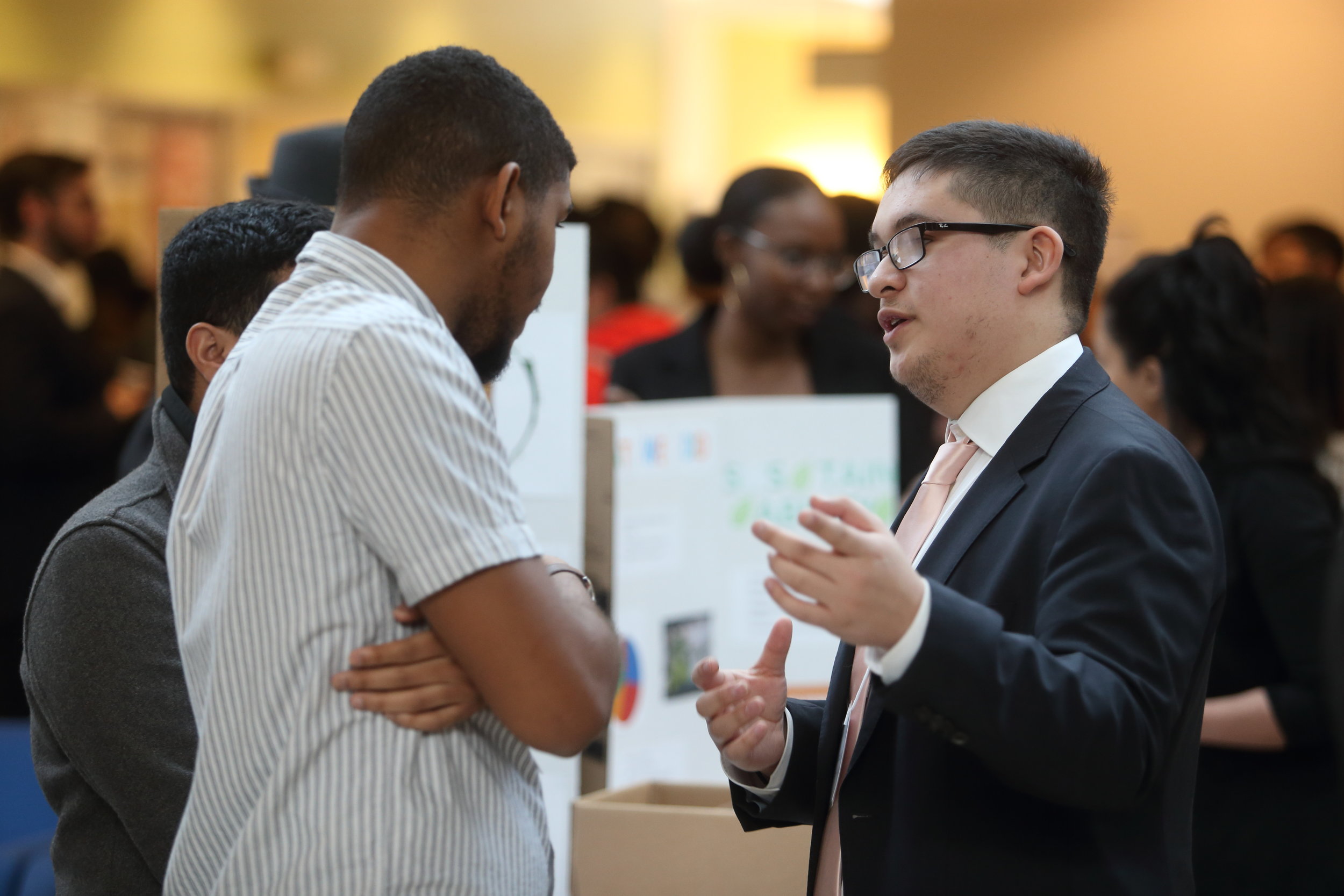 Saint Mary's vibrant entrepreneurship culture was evident during a recent student showcase hosted at the Sobey School of Business on December 12.
Over the course of an afternoon, more than 95 students pitched their lean start-up ideas in the Sobey School lobby or presented formal business plans in the Scotiabank Theatre as part of the Student Innovation, Discovery and Entrepreneurship Showcase.
The students are completing entrepreneurship courses for credit in a range of programs, including Bachelor of Commerce, Master of Technology Entrepreneurship and Innovation, Master of Business Administration, and Bachelor of Arts.
Friends, supporters, faculty, staff and key donors came to see the latest student ventures and innovations, ranging from home-based hair cuts, a high-tech take on fishing gear that protects whales, technology to address the doctor shortage and more.
Dr. Ellen Farrell, Co-Director of SMU's Master of Technology, Entrepreneurship and Innovation program, said that in the entrepreneurship arena, "Saint Mary's is not part of the game; we are light years ahead of the game."
"Our students are making a mark locally and internationally. They are cleaning up at competitions around the region, whether they are hosted by Volta, Innovacorp, Dal or Boston University," she adds." And while other universities are just starting to add entrepreneurship into their curriculum, we're celebrating decades of success."
Several student teams were presenting as part of the The Durland Innovation Fund. Established by alumni and key donors Mike and Catherine Durland, the fund serves as the MTEI applied option venture capital, underpinning new student start-ups. Mike Durland was on-hand to speak to the student teams.
"As students advance their business models and meet milestones they receive envelopes of funding…It's a great example of taking a subject matter, Venture Capital, which we teach by the way, and making it a living laboratory for student entrepreneurs," said Dr. Farrell. The funds serve as incentives and follow Venture capital theory. And since the funds to the students, not to the business, a team of three can access almost $20,000.
Learn more…check out these related stories: