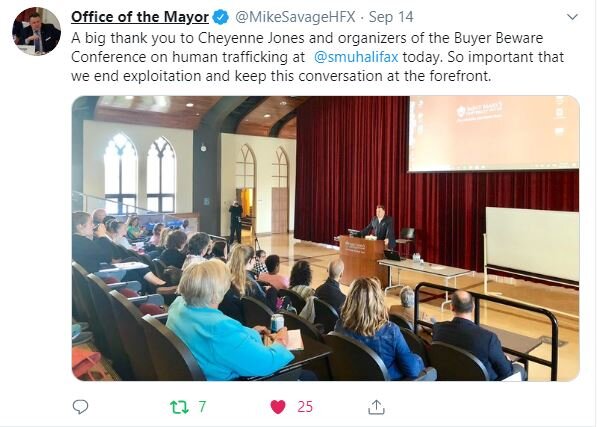 More than 100 people turned out on a Saturday morning for the Department of Criminology's 2019 Speakers Series. Mayor Michael Savage brought greetings to start the half-day session on September 14, titled "BUYER BEWARE: Exposing the culture of tolerance surrounding the marketplace of commercial sexual exploitation".
The first speaker was investigative journalist Victor Malarek, whose talk generated a spirited Q&A session afterwards. Malarek, who worked for years on CBC's The Fifth Estate and CTV's W5, is also the author of six non-fiction books including The Natashas: Inside the Global Sex Trade, and The Johns: Sex for Sale and the Men Who Buy It.
Cheyenne Jones told a heart-wrenching personal story of her own brief experience in the business, and shared her mission to ensure the criminal justice system does more to target the buyers of sex. Shauna Davidson shared a family member's perspective on how things can quickly go awry for vulnerable young women, and Dr. Heather Thompson spoke of the health impacts on women who work in the sex trade.
The event's emcee was Saint Mary's graduate Will Njoku (BA'94), a former Huskie who went on to be a pro basketball player and is currently a motivational speaker and leadership facilitator through his organization, Will2Win.
Read more in these media reports:
· Panel discusses sex trafficking in Nova Scotia, CTV Atlantic, Sept. 14, 2019
· Panel to explore demand fuelling human trafficking in N.S., CBC Nova Scotia, Sept. 14, 2019
· Sexual exploitation conference calls for more attention to the "root" of the problem, The Coast, Sept. 12, 2019