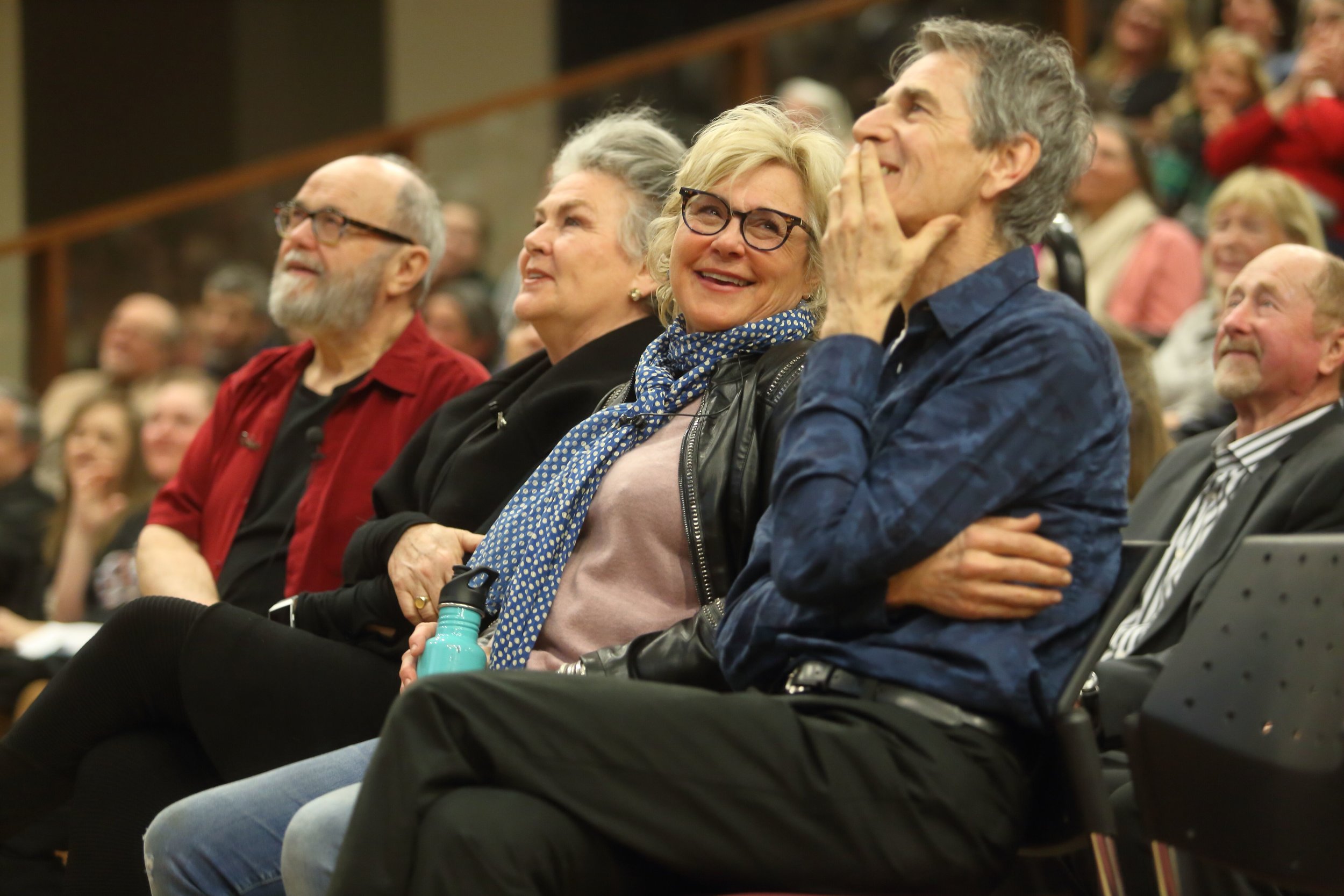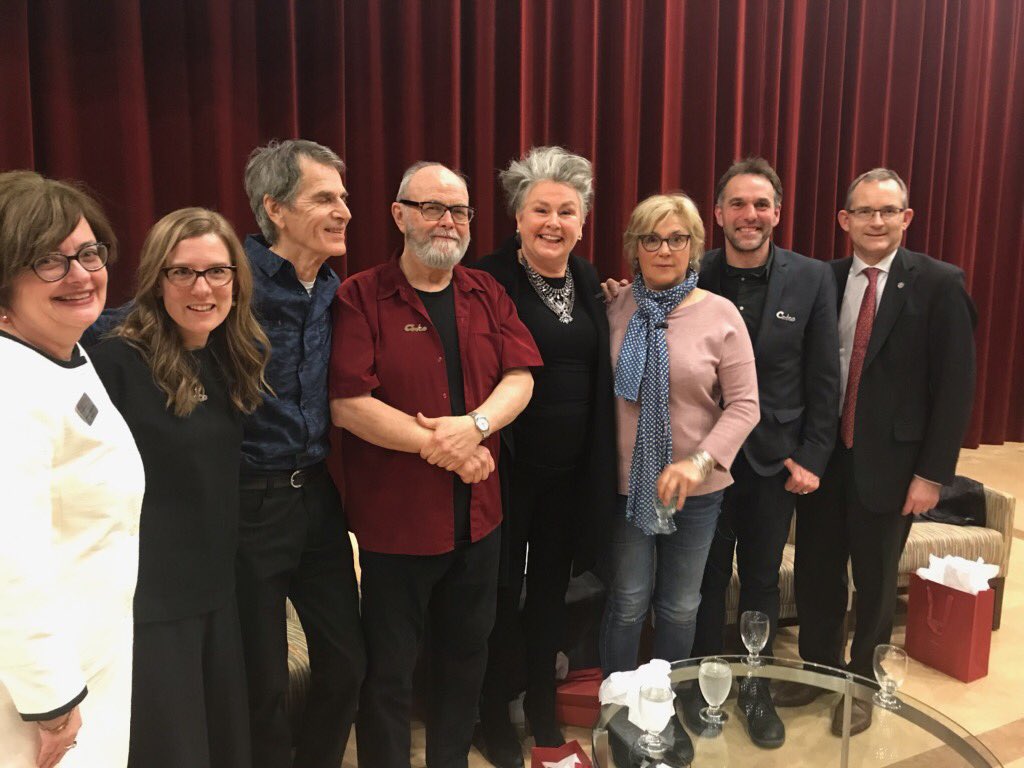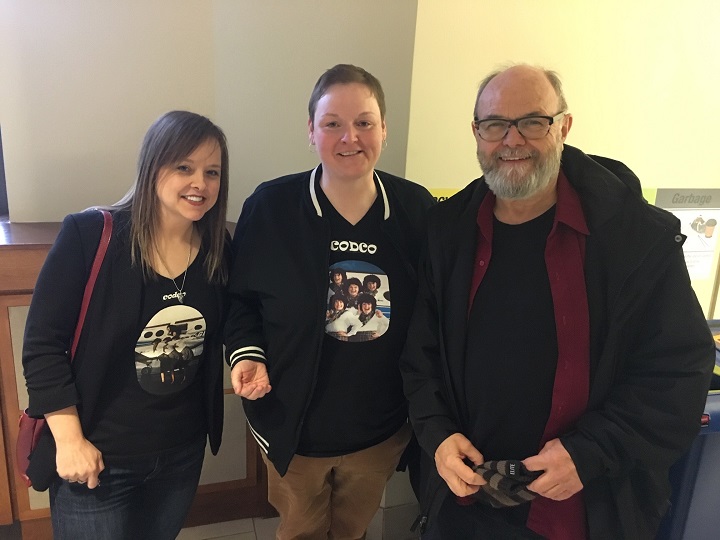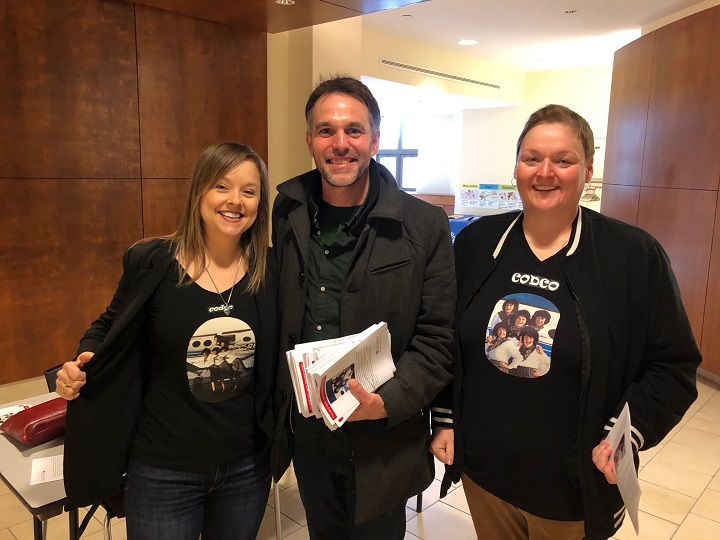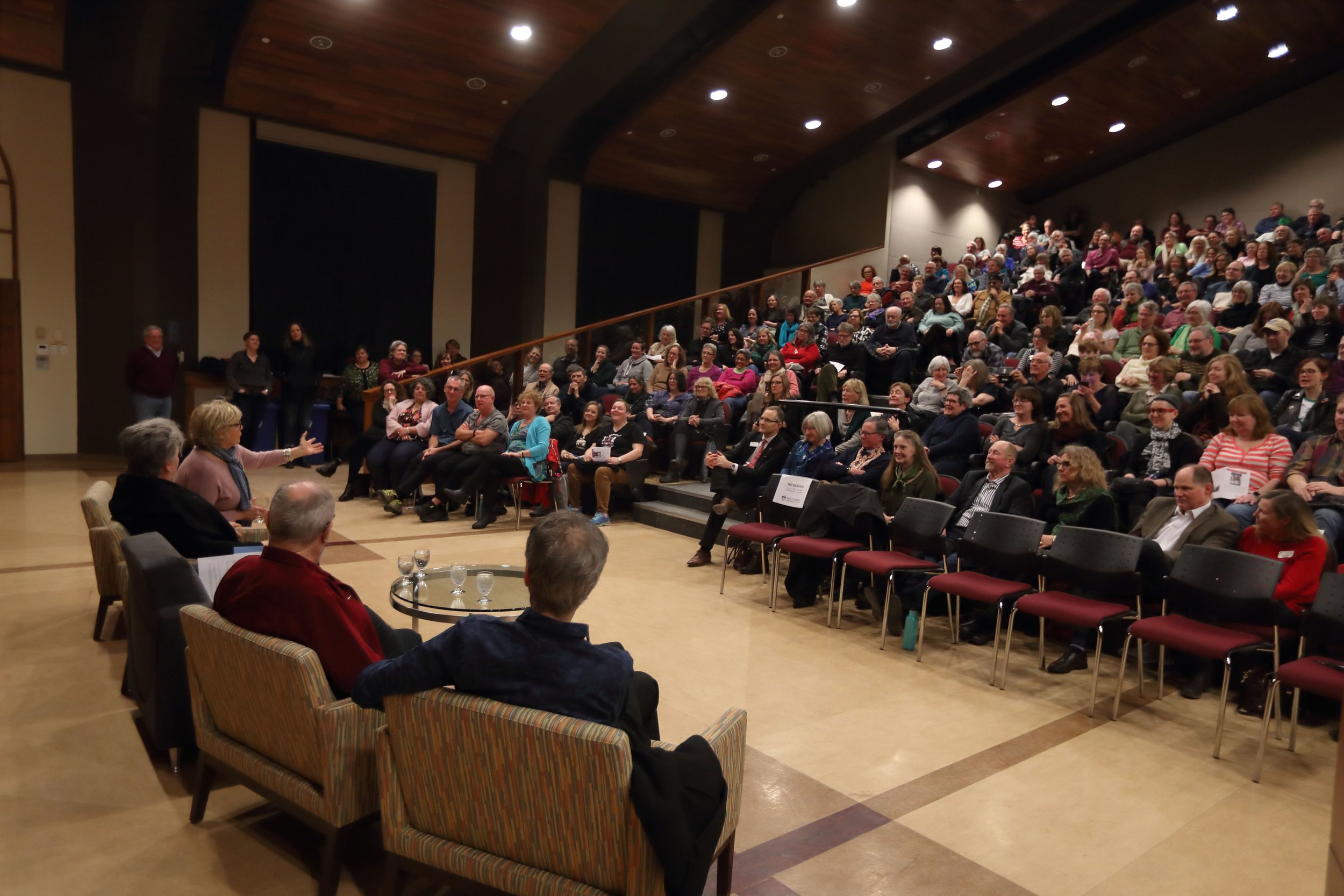 The CODCO reunion was well worth the wait for nearly 500 delighted fans who came to Saint Mary's for the 2019 Cyril J. Byrne Memorial Lecture.
The Newfoundland comedy troupe hadn't been onstage or onscreen together since their brilliant TV show went off the air 26 years ago. But it quickly became clear how the group had earned its 'legendary' status across Canada: Andy Jones, Cathy Jones, Greg Malone and Mary Walsh kept two auditoriums in stitches throughout the special event on March 15. The lecture took place in the McNally Theatre Auditorium, with a video feed going to an overflow space in the Scotiabank Theatre.
"It was nervewracking, really … but it was like a warm bath," Walsh said later in a national CBC radio interview leading up to next week's Canadian Screen Awards, where she will be honoured with a lifetime achievement award.
"The academics at Saint Mary's who study television really treated us as though we were worth looking into. Cathy and I realized that we had had such a wonderful time working on CODCO but sometimes it was so fraught and so difficult, and we worked so hard and we cared so much, that it was so wonderful to have people talk to us as though they cared too."
The four comedians revisited their best work during the hilarious panel discussion, showing video clips to swap stories about their favourite sketches. Tommy Sexton, who died in 1993, loomed large in spirit through the videos and the memories. The panel's moderator Jennifer VanderBurgh, a professor of film and media, spoke about the lasting significance of CODCO's extraordinary comedy writing and performances.
"It's been 30 years since CODCO was on the air. It's still a show that intensely matters," Dr. VanderBurgh said in her introduction, calling it "the most astute and brutally honest satire Canada has ever seen".
Originally founded in St. John's as a theatre company, CODCO aired nationally on CBC from 1988-1993. The show's biting social satire was far ahead of its time, airing long before programs like This Hour Has 22 Minutes and The Daily Show. CODCO was often controversial as it pushed Canadian culture into new territory by tackling many previously taboo subjects relating to gender, sexuality, religion, economic development, colonialism and corporate / political power.
A Saint Mary's Arts graduate, Andy Jones (BA'69) spent part of the day on a tour of the campus, where he acquired a pair of alumni socks that he showed off during the lecture. First in line several hours early was Carla Glavine, who flew in from Codroy Valley, Newfoundland. Another audience member came all the way from Ottawa to see the show. Glavine and friend Lisa MacArthur loved getting a chance to meet their comedy idols: "We grew up watching Codco," said MacArthur.
Since 2007, the Cyril J. Byrne Memorial Lecture has celebrated the legacy and fun-loving spirit of literature professor Cyril Byrne. Throughout his 35-year career at Saint Mary's, Dr. Byrne played a pivotal role in creating lasting connections between academic disciplines within the university. He also helped to establish our Atlantic Canada Studies Program and the D'Arcy McGee Chair in Irish Studies. The lecture has welcomed many of the world's best writers to Halifax, such as Yann Martel, Anne Enright, Richard Ford, Alistair MacLeod, Anne Carson, George Elliott Clark, Colm Tóibín, Dionne Brand, David Adams Richards and Wayne Johnston.
For more on this year's Cyril Byrne Lecture, see the CBC Nova Scotia article and Chronicle Herald article, and tune in online to an interview with the CBC St. John's Morning Show.
Submitted by Marla Cranston, Faculty of Arts.